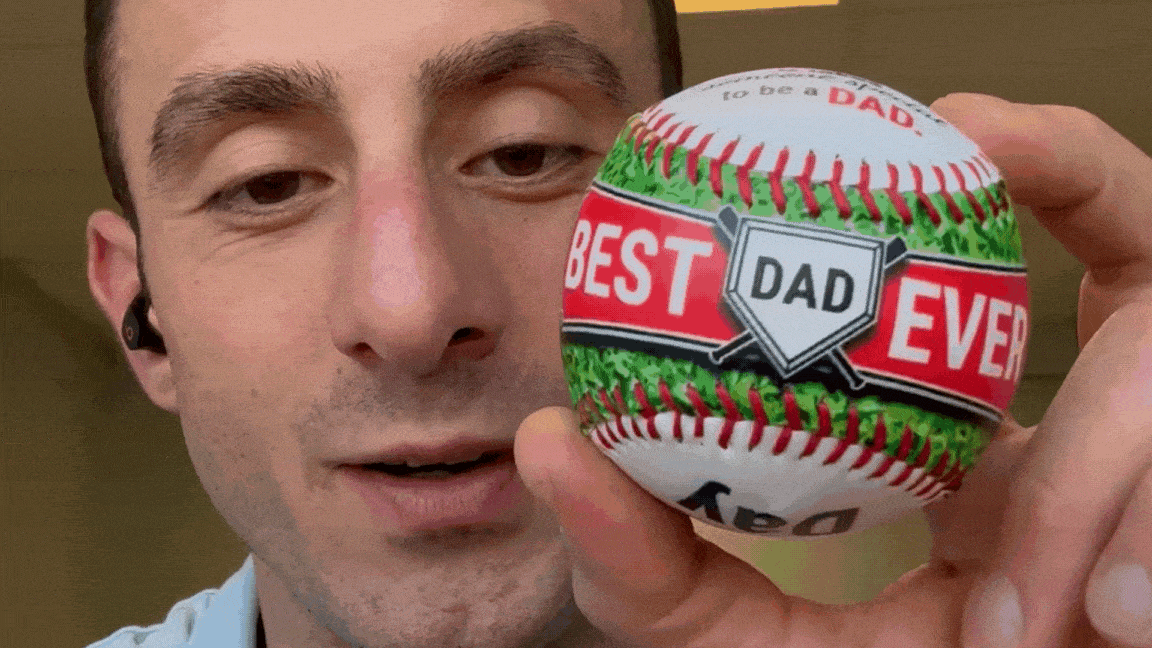 NOT YOUR TYPICAL FATHERS DAY GIFT
We get it... Dad is going to receive the Fathers Day Card, but knock this Fathers' Day OUTTA the park with our Best Dad Baseball!
The ultimate exclusivity. These are truly for the die-hards baseball fans. Dad will love it, knowing there are only 199 others in the entire nation who have one.
There is NO better feeling than knowing YOU gave them the best gift dad has ever received.
YOU WONT FIND THESE ANYWHERE ELSE!
⭐️⭐️⭐️⭐️⭐️
Overall I'm very pleased with my order. It's even more beautiful in person. It came packaged very well and came in a very timely manner. This Product and everything about the company gets 5 Stars from me.
⭐️⭐️⭐️⭐️⭐️
Actually, I was recenetly out of town and just returned home this week, I gave my three grandson's their Minute Maid Stadium balls today (and we are all huge Astros fans - GO STROS)! OMGOODNESS, they were so excited and surprised. They loved them. I thought the quality was good and loved that they are stored in the clear cover to protect them. Looks like I knocked their gifts "out of the park" this year!
NOSTALGIA. PRIDE. EXCLUSIVITY. HERITAGE.
EXPERIENCE UNBEATABLE EXCITEMENT AND EXCLUSIVITY WHEN
YOU EMBRACE YOUR FAN LOYALTY WITH A ONE-OF-A-KIND SPORTRELICS BASEBALL!
When holding a SportRelics Baseball, you can picture yourself back in the ballpark seats watching your favorite team!
Whether you are adding to the mancave, in search of that goodluck charm, or just want to show off your true team spirits, the Stadium Series Baseball is perfect for you!
Remember, our SportRelics are meant to last a lifetime & be passed down to the next generation of superfans in your life. Keep the tradition going or start a new one.
OUR REVIEW SPEAK FOR THEMSELVES, RESPONSIBLE FOR SO MANY SMILES!
QUESTIONS? WE GOT YOU COVERED!
SportRelics is a small business located in Michigan, and we offer 2-day shipping with tracking through USPS!
To create the designs of our baseballs, our graphic artists use a unique process that combines royalty free photography, digital sketching, and watercolor digital painting.
Our baseballs are regulation-sized, crafted to give you a real-world baseball experience. They are not glossy or squishy like other collectibles.